As time passes from one century to another, Hanover Township remains an excellent place to live, work, and play.
Hanover is a thriving community of houses, office, industry, warehouse, wholesale and retail establishments, and open space. It has a scenic river with forested plains and open meadows along its river valley and its elevations range from 200 feet to its highest peaks reaching nearly five hundred feet.
Most residents are proud to live in Whippany, Cedar Knolls, Countrywood, and Trailwood and there is an abundance of community spirit. Residents are endowed with many township services and amenities. The crime rate is low and residential neighborhoods are a safe place where children can play in the streets. The school system is excellent with neighborhood elementary schools in Whippany, Cedar Knolls / Countrywood, and a high school in Whippany.
The Parks and Recreation Department is second to none with over five hundred acres of municipal open space in the form of parkland located throughout the township. Part of the Morris County Arboretum is located in Whippany and the cross-county hiking/biking trail known as Patriots Path runs along the Whippanong River corridor. The Recreation Department sponsors many programs and activities for residents of all ages and recreation facilities include a community center and gym, a historic chapel and meeting hall, a municipal swimming pool, playgrounds, basketball, boccie, volleyball, and tennis courts, baseball, softball, and soccer fields, horseshoe pits, fishing ponds, ice skating ponds, and picnic areas.
Hanover Township has two fire departments, a police department, a first aid squad, and a public works department that maintains, sweeps, and plows roads and collects garbage, grass clippings, leaves, and recycles papers, plastic, glass, and metal.
Hanover has a train museum, an airport, two libraries, an interstate highway and a state freeway running through it, two shopping centers, and a mix of condominiums, townhouses, ranch houses, bi-levels, split levels, capes, colonials, and "Mc Mansions," with conveniences of natural gas, electricity, cable TV and internet service, city water, a sanitary sewer system, and township roads complete with storm drains and Belgian block curbs.
Hanover Township has a broad base of industrial/commercial ratables that help provide residents with some of the lowest property taxes in Morris County. Industrial and corporate campuses are usually built in park-like settings. Retail establishments are pleasantly void of offensive commercialism and obtrusive neon signs as seen in surrounding areas. Unlike neighboring municipalities that are now built to urban proportions, Hanover remains a suburb. With careful planning, it could retain its suburban integrity for many years to come.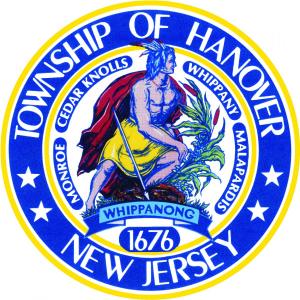 Hanover Township Government
Hanover Township Committee
The governing body of the Township of Hanover is a township committee consisting of five resident members. Committee members are elected from the township at-large in partisan elections for three-year staggered terms. There is an election of at least one member every year.
Committee members annually choose one among themselves to serve as chairman of the committee. The term chairman has evolved to the title of mayor (and although being mayor is a prestigious title, the mayor of Hanover has little more power than each of the other four committee members). The mayor presides at committee meetings, acts as a spokesperson for the committee, signs documents on behalf of the committee, votes as a member of the committee, and has other special, limited powers. The mayor has no veto power over the rest of the committee and the mayor and committee members each have one, equal vote.
The Hanover Township Committee traditionally divides itself into government categories with each committee member becoming the director of a particular department or office of municipal government. The director supervises the administrative and employment activities of the department or office he or she is assigned. The committee also appoints a business administrator to run the day-to-day operations of government.
The township committee functions as the board of directors for the township. The committee works out the municipal budget, approves the payment of bills, enacts township laws and legislation, and makes decisions on behalf of the citizens and the municipality. It hires municipal employees, approves contracts for outside vendors and professional services, and approves salaries, wages, raises, and promotions for municipal employees.
The committee must balance the services residents expect with the cost that residents must pay; it is responsible for the property tax rate and the annual taxes residents and businesses must pay to support the municipal government and services they receive. The school board is also responsible for a portion of the property taxes and the school tax always exceeds the municipal tax. Also, the fire board of commissioners sets a small percentage of the tax rate for fire protection. (There are two school boards in Hanover—elementary and high school, and two fire boards—Cedar Knolls and Whippany.)
The township committee plays an important role in the quality of life, cost of living, and land use trends within the township, yet in today's busy society, many people are unaware and uninvolved in township affairs; many don't vote in municipal, school, or fire commission elections, and very few people attend open public township meetings, despite the impact the township committee and local boards have on their lives.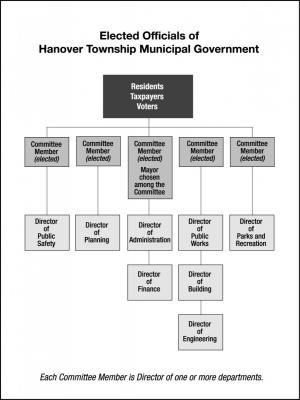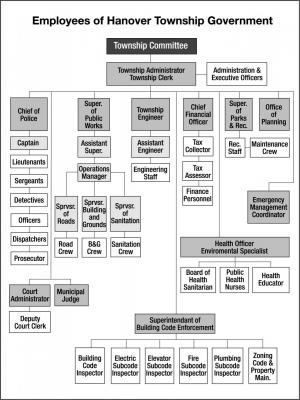 _________________________________________
Subjects covered in A Place Called Whippany— 2nd Edition— Chapter 9:
Hanover Township Government; Hanover Township Committee; Early Township Government; Hanover Committee 2000; Politics in Hanover; Elected Township Boards, Committees, and Commissions; Professional Appointed Positions; Appointed Boards, Commissions, and Committees; Meeting Schedules—Township Boards, Committees, and Commissions; Township Departments and Offices; Employee Unions of the Municipal Government; The Structure of Government; Departments and Office Personnel; Hanover Sewerage Authority; Hanover Township Recreation Commission; Township Ballfields; Township Parks and Open Space; Township Sport Courts; Hanover Municipal Building; Municipal Building Commemorative Plaque; Township of Hanover Seal; Historic Summary of Hanover Seal; Hanover Township Board of Education; Hanover Park Regional Board of Education; Whippany Fire Department; Cedar Knolls Fire Department; Cedar Knolls First Aid Squad; Elections; Voting Districts and Polling Places; Registered Voters; List of Streets and Roads in Hanover Township; Street Map of Hanover Township.